IRISH GEMS – 13 DAY, 4 & 5 STAR TOUR
EXPERIENCE THE BEST OF IRISH HOSPITALITY ACROSS THE EMERALD ISLE ON THIS MAGNIFICENT "IRISH GEMS" 13 DAY, 4 & 5 STAR TOUR.
SELF-DRIVE, CHAUFFEUR SERVICE & FAMILY GROUP RATES ALSO AVAILABLE – PLEASE CLICK HERE TO CONTACT US
Welcome to Ireland!
DUBLIN – Ireland's Historic Capital City!
An endless selection of experiences await you in Dublin. Explore sites such as Trinity College to see the famous book of Kells, or maybe get to know The Guinness Storehouse.
Trinity College  was founded in 1592 by Queen Elizabeth 1st on grounds confiscated from an Augustinian priory and is the oldest university in Ireland. The university is facing the medieval district where Dublin Castle and the two Anglican Cathedrals can be found. The Campanile, erected in 1852, was built on what is believed to be the centre of the monastery. Built to further the education of the ruling Anglo-Irish families.
Most of the main buildings off the main square were built during the Georgian period, some of which replaced older buildings. Within its walls, visitors will be able to admire Parliament Square and its 18th Century edifices.
Trinity College has had many famous students such as Jonathan Swift and Samuel Beckett who later became a lecturer in French at the university. The inter-denominational Church is very much worth a visit.
The Guinness Brewery in Dublin is Europe's largest stout producing brewery and home to the Guinness Storehouse. Opened in 1904, the Storehouse was an operational plant for fermenting and storing Guinness. Today it houses a very fine exhibition dedicated to the Guinness story.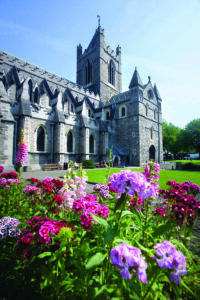 Visitors will discover what goes into the making a pint of Guinness – the ingredients, the brewing process, the time, the craft and the passion. The exhibition shows how the brew has been marketed and how it is today sold in over 150 countries. Once the tour has finished, the guest is invited to the Gravity Bar to enjoy their pint of Guinness. Regular demonstrations on the art of pulling a pint of Guinness also take place in the Storehouse.
Launched on the fifth floor in 2011, "Five" at Guinness Storehouse, includes a small replica authentic Irish Bar, an 18th Century inspired Brewers Dining Hall, and a restaurant named Gilroy's where guests enjoy a Guinness gastronomical experience driven entirely by the Irish tradition of wholesome local produce.
Menus include local foods such as Ardsallagh goat's cheese, Irish mussels from Carlingford and the Waterford Blaas bread supplied by MD Bakery in Waterford. This area will host from time to time live cooking demonstrations using Guinness in the recipe and it includes an interactive recipe sharing bank that allows visitors to take Guinness recipe cards home.
Discover the north and south side of the River Liffey. This area offers great striking monuments such as the GPO (General Post Office) on the city main thoroughfare, O'Connell Street, or the Custom House along the quays, as well as the Phoenix Park, the largest public park in Europe.
The south side of the City appears more sophisticated with its vast Georgian squares, such as Merrion Square, where Oscar Wilde's House can still be found (today owned by an American College), its colorful doors, along with Grafton Street and its quality shops. Not so far from St. Stephen's Green, in Kildare St., you will see the house of Bram Stoker, the author of Dracula.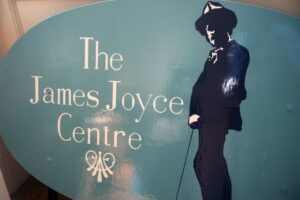 Stay in the Brooks Hotel, one of Dublin's most desirable addresses – an oasis of calm just a couple of minutes walk from Grafton Street.
The Hotel has a ground floor bar, lounge and restaurant all linked together, making an extensive public area that is quietly impressive on arrival – the style is a pleasing combination of traditional with contemporary touches, using a variety of woods, some marble, wonderful fabrics and modern paintings – and, while a grand piano adds gravitas, there's a welcome emphasis on comfort.
CORK
Travel to Cork via Kilkenny. Kilkenny's heritage is evident in the city and surroundings including the historic buildings such as Kilkenny Castle, St. Canice's Cathedral and round tower, Rothe House, Shee Alms House, Black Abbey and St. Mary's Cathedral.
One of the most instantly recognized buildings in Ireland, Kilkenny Castle has been an important site since it was built by the Anglo-Normans in the 12th century. The castle has been remodeled in Victorian times and set in extensive parklands which was the principal seat of the Butler family, Marquesses and Duke of Ormonde.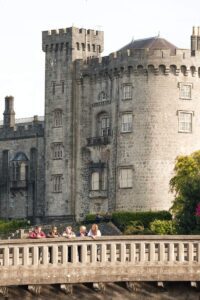 St Canice's Cathedral has been an important site of Christian worship since the 6th Century. For both pilgrim and tourist alike, the Cathedral remains both a hallowed place, and one of significant historical interest. Additionally, St Canice's is the mother church of a bishopric which includes six dioceses and eight counties. It continues to be used as a place of prayer and pilgrimage.
The Round Tower in Kilkenny is one of the only two round towers in the country that people may climb (via a series of internal ladders comprising seven floors and 121 steps in total!), the round tower at St Canice's Cathedral provides a magnificent view of Kilkenny and the surrounding area on a clear day. The structure is 100ft high, tapering from 15 to 11ft in diameter.
When the tower was originally built it would have had a conical top, adding a further 18ft to its height.
When in cork, explore The English Market. Situated in the heart of Cork City, the English Market is a roofed food market and has been trading since 1788.
Alternatively visit the Titanic Experience in Cobh. The location marks the departure point for the last 123 passengers who boarded the Titanic on its fateful maiden voyage to America.
Arrive in the Inchydoney Island Lodge and Spa. One of Ireland's first seawater spa destinations, this famous hotel enjoys great views over the two 'Blue Flag' beaches at Inchydoney, which bring crowds to the area in summer, so many guests prefer it off-season.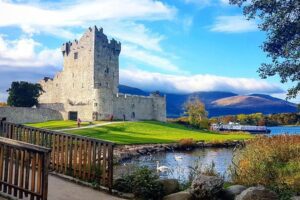 Most of the generously sized bedrooms have sea views and all have been completely redesigned recently. The exceptional health and leisure facilities make this a special destination for many returning guests; these include a superb Thalasso-therapy Spa, which offers a range of special treatments.
Killarney
The first residents of the Killarney area were the Bronze Age Beaker Folk, from around 2000 BC.
Killarney's unique history began with the last Ice Age. A single ice sheet covered the entire region. As it melted, it sculpted Killarney's magnificent peaks Carrantoohill, Crohane, Tomies, Torc, and Mangerton. Pushing aside huge boulders and gravel, it created the winding passes of Moll's Gap and the Gap of Dunloe. The retreating ice also formed dark, mysterious loughs. The Long Range (Upper Lake, Muckross Lake, and Lough Leane), Lough Guitane, and the Devil's Punch Bowl are all glacial remnants. On the humorous side, it left the geological joke Cnoc An Cappeen, "the rock with a hat", just outside Kenmare.
Visit Killarney National Park, Ireland's largest National Park. The park itself covers over 25,000 acres (10,000 hectares) of mountain, garden, park, woodland, waterway and moorland. It has an unusual and varied ecology as a result of its geology and the climatic influence of the Gulf Stream.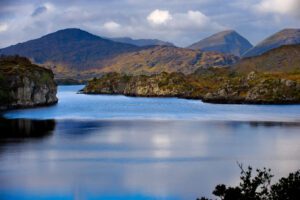 The well preserved remains of Inisfallen Abbey, a monastic settlement which was founded in the 7th century and remained inhabited until well into the 14th century, can be seen on an island in Lough Leane . Muckross Abbey, built in 1448, the central feature of which is a huge Yew tree, said to be as old as the abbey itself.
After a full day of exploration, why not spend the night in the Loch Lein Country House Hotel? Just a short distance outside Killarney town on the Ring of Kerry route, this small lakeside hotel is beautifully located, with views of the Macgillicuddy Reeks.
Although conveniently located for everything you could wish to do in the area, it's a hidden gem, quietly tucked away from roads and other properties there is nothing between you and that lake and mountain view. The rooms – some of which have a lake view – are exceptionally spacious and well appointed.
The Ring of Kerry
Today depart for a Ring of Kerry Tour. The Ring of Kerry brings you along the Atlantic Coast and is one of the highlights of a trip to Ireland. Quiet valleys and idyllic spots await along the way. The breathtaking beauty of the landscape on the peninsula will delight you.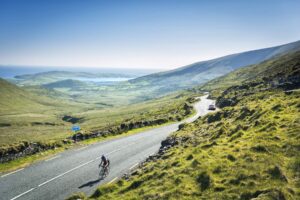 Above all, the Ring of Kerry provides an amazing insight into the ancient heritage of Ireland – see the Iron Age Forts & Ogham Stones, Old Monasteries and a landscape carved out of rock by the last Ice Age 10,000 years ago.
Dingle Peninsula – Adare
This morning enjoy another beautiful scenic route. The Dingle Peninsula has something to offer to everyone.
The Peninsula has an extraordinary number of ring forts, high crosses and other Ancient Monuments. The area west of Dingle has the greatest concentration of ancient sites in Kerry. This area is also a genuine Irish-speaking area.
GAELIC LANGUAGE
To trace the roots of the Gaelic language, you have to look back to the "parent" language family: in this case, Celtic.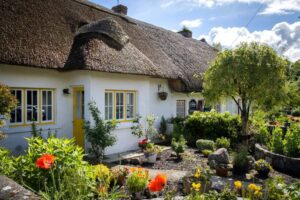 Not a lot is known about Gaels who brought the Gaelic language to Ireland but it is known that the Gaels gradually spread southward towards what is now inland Ireland and Scotland, and they brought the early Celtic language with them.
Today, six Celtic languages remain, including Scottish Gaelic, Irish, Welsh, Breton, Cornish, and Manx.
Along the Peninsula there are; sandy beaches safe for swimming, walking routes for all abilities, a rich musical tradition, fine dining, sea angling, arts and film festivals, talented craftsperson's and some of the best surfing in Ireland.
Traveling on to Limerick, pass by Adare and visit Desmond Castle.
This evening stay in the Dunraven Arms Hotel. The hotel has earned an unrivaled reputation for the quality and value of short breaks offered, and there is an ongoing determination to combine personal service and quality with value, which makes Dunraven Arms an outstanding example of contemporary Irish hospitality at its best.
Adare – Galway
On your way to Galway you will cross the Burren Region. The vast, moon-like Burren in County Clare is one of Ireland's most compelling landscapes. Here, cool grey rock etched with crevices and cracks tumbles down to the wild blue Atlantic Ocean. The result is one of nature's most extraordinary phenomena: a huge rocky pavement dotted with rock formations, caves and fossils, as well as an incredible array of flowers, from native species to Arctic, Alpine and Mediterranean plants.
Soon after that you will arrive at the Cliffs of Moher – majestic cliffs which rise 215 metres out of the Atlantic and stretch for more than 7 kilometres. From this vantage point you can see the Aran Islands and the mountains of Connemara.
Stay in the Ballynahinch Castle. This crenellated Victorian mansion is renowned as a fishing hotel and enjoys a most romantic position in 450 acres of ancient woodland on the banks of the Ballynahinch River. It is also home to one of Connemara's oldest gardens.
Set out among mature trees and shrubs, on many levels, the extensive landscaped gardens here have long been a point of pride and are open to the public every day throughout the season. Although impressive by any standards, the atmosphere is relaxed and the castle would make a very comfortable base for a few days.
Connemara National Park
Discover the wilderness of Connemara today. Connemara, whose inhabitants still speak Irish, is without doubt the wildest and most romantic part of Ireland.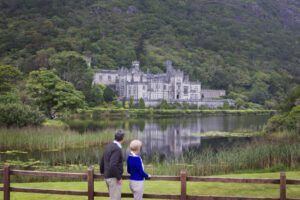 Bewitchingly hidden between mountains and lakes and surrounded by Rhododendrons, lies the gothic style Kylemore Abbey.
Afterwards visit Connemara National Park. This impressive park is situated at the foot of the Diamond Mountain, which is 727 metres high. The park includes 1,500 hectares of forest, swamp, highland moors and heaths.
Sligo & Donegal
On your way trough Sligo you can visit the Carrowmore Megalithic Cemetery. Carrowmore Cemetery has over 60 stone circle and passage tombs making it one of the largest Stone Age cemeteries in Europe.
For overnight stop at Harvey's Point Country Hotel. Blessed with one of Ireland's most beautiful locations, on the shores of Lough Eske, this well-managed hotel was first opened by the Gysling family in 1989, when chalet-style buildings linked by covered walkways and pergolas created a distinctly alpine atmosphere reminiscent of their native Switzerland – a style that suited the site well, with the open low-level design allowing views of the lough and mountains from most areas of the hotel.
Donegal
Today why not visit the Slieve League Cliffs. Europe's highest sea cliffs, although less famous than the Cliffs of Moher in Co. Clare, Slieve League's Cliffs reach almost three times higher, but you won't really notice. As are most parts of Co. Donegal this site is largely untouched by tourism and walks through a largely unspoiled landscape give you a spectacular view of the coast and the cliff face.
Prepare to be dazzled by the panoramic view across Donegal Bay, which is simply breathtaking. Sliabh Liag is truly Mother Nature's finest canvas where tales of myth and legend, local history and Irish tradition seem to be painted into this wild and rugged landscape.
Sliabh Liag is a place of sacred Christian pilgrimage and a rich Irish heritage and culture.
Also you can visit the Glenveagh National Park. A spectacular 16,500 hectares (40,000 acres) of scenic mountains, lakes, glens and woods, with a herd of red deer, Glenveagh is one of Ireland's protected natural parks managed by the State.
A Scottish style Castle within the estate is surrounded by one of the finest gardens in Ireland, which contrast with the rugged surroundings. Built between 1867 and 1873, Glenveagh Castle is a castellated mansion designed by John Townsend Trench.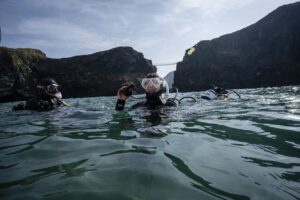 It is modelled on early Irish tower houses and has been built using local granite. The castle's remote mountain setting was inspired by the Victorian idyll of a romantic highland retreat. The Visitor Centre houses exhibitions and an audio-visual show on the area.
Derry
Travel towards Derry.
Derry has a heavy historical past and has suffered a lot through violence. Today Derry enjoys the advantages of the new peaceful atmosphere in Northern Ireland politics and its city centre is again lively and pleasant.
Stand on the city walls in Derry~Londonderry and you'll feel it. History is all around you. The very walls beneath you were built over 400 years ago. Look over to the city's Bogside area and you'll see history literally written on the walls in those famous murals. Traditional music spills out onto the streets from cozy pubs, museums tell stories of times past, and people still celebrate ancient festivals.

But there's more to this place than its past. This is a vibrant modern city with a cutting-edge food scene.
You will appreciate a walk in the colorful and well looked after historical city, which boast good shopping, pubs and cafes.
Stay in the Beech Hill Hotel. Just south of Londonderry, surrounded by 32 acres of peaceful woodland, waterfalls and gardens, this house dates from 1729 and retains many of its original details.
Beech Hill is an ideal destination for anyone who enjoys being in restful surroundings and yet close to the city. The lovely gardens and woodlands are the main attraction for many and, as well as 6km of woodland trails, there are picnic areas for fine weather and an outdoor gazebo and terrace at the main pond area.
Belfast
En route to Belfast visit the Giant's Causeway. The new Visitor centre explores the major themes of mythology, geology, landscape, ecology, culture and social history based on the UNESCO World Heritage site that consists of 40,000 basalt polygonal columns formed 60 million years ago after a volcanic eruption.
There are various interactive exhibits and short video presentations within five designated interpretive exhibition areas and the self guided visit will culminate with a spectacular two minutes audio-visual projection of a volcanic eruption flowing over the walls and onto the floor. In 2015, Conde Nast Traveler magazine included hopping the stones of the Giant's Causeway as one of the '50 things to do in Europe before you die'.
Also you can visit the Old Bushmills Distillery. A guided visit commences with an excellent short film on the history and distillation of Irish whiskey, followed by a 20-minute tour of the distillery. The visit finishes in the distillery pub with a tasting.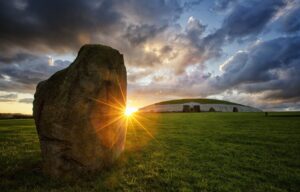 This evening stay in The Merchant Hotel. It is situated in the heart of Belfast city centre's historic Cathedral Quarter and is Belfast's most dramatic and beautiful hotel.
All guest rooms are elegantly and opulently appointed and offer air conditioning, black out curtains, WiFi, flat screen television, and spacious marbled bathrooms with many extras.
Belfast – Dublin
Depart for Dublin and visit the Boyne Valley. The Boyne Valley is a World Heritage Site and is the largest (over 90 Neolithic monuments!) and one of the most important prehistoric megalithic sites in Europe. It is best known for the iconic passage tomb of Newgrange, which dates back to around 3200BC.
Once the territory of Ireland's high kings, it boasts a history that dates back over 5,000 years. Around you is the legacy of every big player from Ireland's past, including ancient pagans, high kings, early Christian monks, Vikings, Normans and Anglo-Irish aristocrats.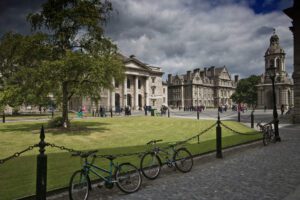 But there's more to this place than historic monuments and ancient intrigue. For lovers of good food, it's a place that's hard to beat, with great local produce, excellent ingredients and a buzzing restaurant scene. And the beautiful natural surroundings play host to a range of activities, from kayaking on the mythical River Boyne to forest bathing in ancient woodlands.
Spend your evening in Dublin City and stay at the Dunboyne Castle Hotel. Set in 21 acres of woodland and gardens on the Meath-Dublin border, this 18th century mansion has been stylishly developed with the original building, a large 3-story over basement country house, very much the dominant feature in the overall design of the present 4* hotel.
Trip ID: 0623106