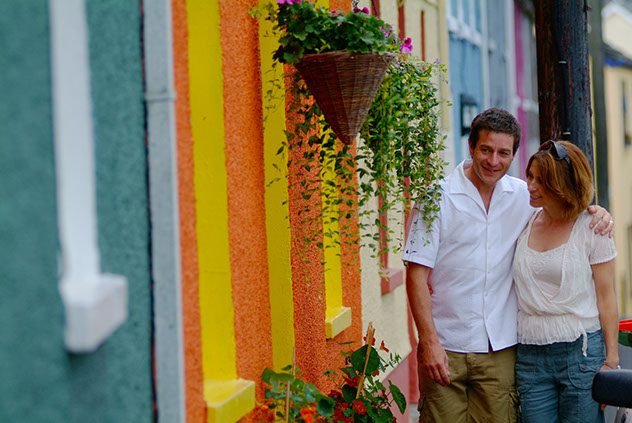 Christ Church Cathedral, Dublin
This is a Must See & Do. A place of pilgrimage during medieval period and a place of worship for nearly 1,000 years. Christ Church Cathedral sees thousands of visitors every year.
The Choir traces its origins to 1493. In 1742 the Choir took part in the 1st performance of Handel's Messiah.
Current era Choir has toured extensively in Ireland, England and France.
In addition to Performing concerts and services in Westminster Abbey, New Zealand, America, Germany, most recently they performed "Messiah" in Loreto, Italy.
Book Your "Self-Drive" Vacation HERE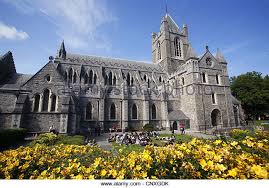 Medieval Crypts in Dublin, Ireland
"The Vaults"
The Vaults of St. Michan's contain many mummified remains. The air in the Vaults is kept dry by the walls that contain limestone. This creates ideal conditions for preservation. Some preserved here are the remains of the "400 year old nun" and the "Crusader", a six-and-a-half foot man.
The church and vaults are open to Tours for the public with exception to Sundays, as the church is still an active place of worship.
Book Your Escorted "Unforgettable Ireland" Vacation HERE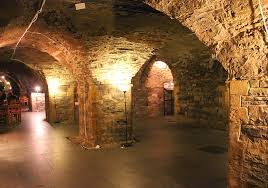 Book of Kells, Trinity College Library, Dublin
The Book of Kells is believed to have been created ca. 800 AD. and is widely regarded as one of Ireland's finest national treasures.
The manuscript takes its name from the Abbey of Kells which was its home for centuries.
You can view the manuscript that is on display at Trinity College Library, Dublin. The Library usually displays two of the four volumes at a time. The entire manuscript can be viewed on the Library's Digital Collection.
Book Your "Featured" Vacation HERE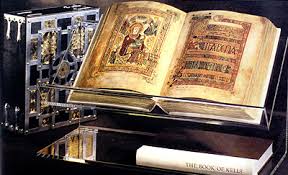 English Market, Cork City
A Market has been on these grounds since 1788. Nowadays it is a multicultural market with a variety of fresh produce from around the world. The market is best known however for its fresh fish and butchers, serving many of the city's top notch restaurants. Buttered eggs, drisheen and spiced beef are local specialties.
Book Your "Ireland Culinary Experience" Vacation HERE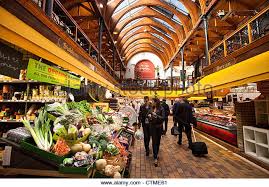 Irish History of Ringforts and Castles
Irish history can be traced through the castles you will see dotted throughout every county in Ireland today. They are the legacy of some 6000 years of occupation dating back to Megalithic times, when the Celts arrived here from mainland Europe.
Book Your "Irish Castles" Vacation HERE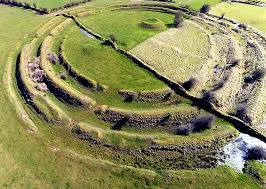 The Cliffs of Moher (Irish: Aillte an Mhothair) are located at the southwestern edge of the Burren region in County Clare, Ireland.
They rise 120 metres (390 ft) above the Atlantic Ocean at Hag's Head, and reach their maximum height of 214 metres (702 ft) just north of O'Brien's Tower.
From the cliffs and from atop the tower, visitors can see:
The Aran Islands in Galway Bay
The Maumturks and Twelve Pins mountain ranges to the north in County Galway
Loop Head to the south.
The cliffs consist mainly of beds of Namurian shale and sandstone, with the oldest rocks being found at the bottom of the cliffs.
It is possible to see 300 million year-old river channels cutting through, forming unconformities at the base of the cliffs.
There are an estimated 30,000 birds living on the cliffs, representing more than 20 species. These include:
Atlantic Puffins
Hawks
Gulls
Guillemots
Shags
Ravens and choughs
Book Your "Wild Atlantic Way" Vacation HERE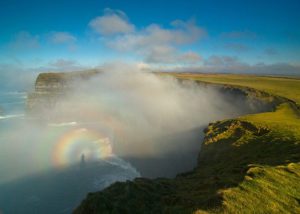 A single breakfast that could feed an army. Homes as unique as the Irish themselves and a welcome so warm that you won't need the fire.
B&B's in Ireland aren't just accommodation, they're an experience, they're an Irish family home. And the secret, it's all down to tradition.
Ushered inside by your host, this is where it all begins. The warm flow of hot tea from the pot and a "So, how was the journey? You must be exhausted!" You've chosen their house and their country for your holiday – and they couldn't be happier.
After the welcome comes the expertise. The inside track begins and ends with the host. Where the best Guinness is poured, where to enjoy the best trad session – or seisiún as they're called in Irish – with tales and songs of old Ireland.
You'll drift off to sleep that night tapping your feet!
B&B owners in Ireland have honed their local knowledge, not only over their own lifetimes, but through their grandparents' experiences too.
Expect to hear, "My grandfather caught a huge pike on that lake!" or "My grandmother taught me to bake this soda bread. Would you like the recipe?"
There are almost 850 Irish family homes to choose from, whether you want a cultural extravaganza on a city break, an escape from the pressures of modern life at a country or Irish farmhouse, or an indulgent few days in some of Ireland's splendid towns.
Regardless of your choice, quality is assured, as is a unique experience.
So Now you've arrived at your B&B, you're part of the family.
Book Your "Farm House – B&B" Vacation HERE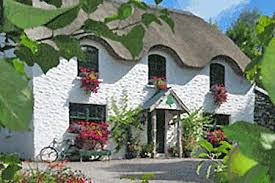 B&B Ireland homes in the Republic of Ireland are rated from;
Approved
Three-star
Four-star
Five-star.
So when you choose to stay with us you will be treated like family by your host.
No matter what the rating, rest assured that your holiday experience will involve comfort, quality and an excellent welcome.
You'll be served an Irish breakfast so mouth-watering that you'll probably want to take a photo to show your friends back home!
A stay in our star- rated Irish homes is your assurance of quality and first-class service, without the extravagant bill.
Book Your "Family Tour" Vacation HERE

Ireland, the birthplace of golfing greats including:
Christy O'Connor Snr
Christy O'Connor Jnr
Joe Carr
David Feherty
Graeme McDowell,
Rory McIllory and so many more.
Another thing to boast is that Ireland is also the home to some of the world's best golf courses such as;
Tralee Golf Club
European Club
Ballybunion
Waterville
Old Head of Kinsale Links
K Club
Killarney Golf & Fishing Club
Dromoland Castle Golf Club
Adare Manor
Furthermore, the size of the country means you can easily drive from one course to the next. You can even play a parkland and a links in the same day.
So all you have to worry about is your swing.
Book Your"Ireland Golf" Vacation HERE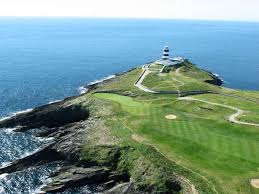 Ireland's Gaeltacht regions are areas where the population continues to speak Irish (Gaeilge) as their first language.
These regions are also rich in Irish culture and customs so they are ideal if you want an authentic experience of traditional music, Gaelic games and crafts.
Book Your "Irish Music & Pub" Vacation HERE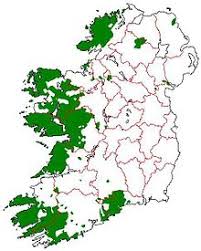 This See & Do is just 3km North West of Dublin City Centre.
The National Botanical Gardens are noted for their fine plant collections, caring for plant species and cultivars from around the world.
Glasnevin is home to over 300 endangered plant species from around the globe including 6 species, which are already extinct in the wild.
Book Your 5 Star, "Elegant Ireland", Vacation HERE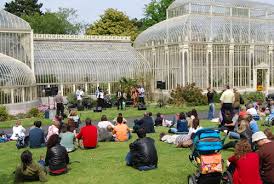 Celtic & Irish Pottery History
Pre-Celtic Pottery dating from the Stone and Bronze Ages have been found on the Island of Ireland.
The Potter's Wheel was introduced into Ireland circa 13th century.
Belleek Potters, probably the most famous name in Irish Potter, was founded in Belleeck, Co. Fermanagh in 1859 and is still in business.
Book Your "Wild Atlantic Way" Vacation HERE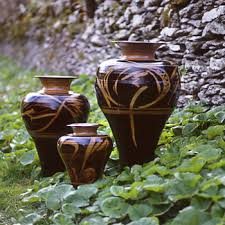 The Irish Architectural Archive was established to collect and preserve material of all kind related to the Architect of Ireland and making it accessible to anyone with interest.
The Archives include the most significant body of historic Irish Architectural drawings in the world. The Archives hold in excess of 250,000 drawings, over 400,000 photographs and more than 15,000 items of printed material.
Book Your "Ireland's Ancient East" Vacation HERE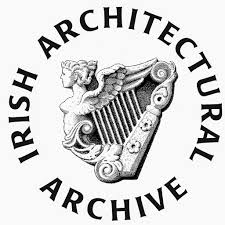 The Irish Diaspora refers to Irish emigration and their descendants around the world.
After 1840, emigration became a massive, relentless and efficiently managed national enterprise.
In 1890 two of every five Irish-born people were living abroad.
Reseaecg your Ancestry HERE