CLIFFS OF MOHER FROM LIMERICK (COACH)
SAVOR THIS MAJESTIC, SERENE, AND SPIRITUAL PLACE, THE CLIFFS OF MOHER, AS WE TAKE A CIRCULAR TOUR OF THE BURREN REGION AND THE COUNTY CLARE COUNTRYSIDE.
**Departure Time: 09:30am
**Pick-Up Location: Arthur's Quay, Arthur's Quay Park (At the Former Limerick Tourist Office Building)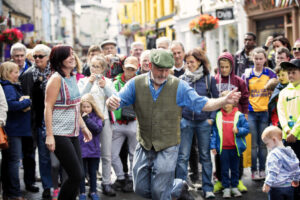 We start this Day Tour with a scenic drive through County Clare and continue to the Cliffs of Moher where we stop for 1.5 hours. Visitor charges at the Cliffs are included in the tour price and you will receive a complimentary ticket to the award winning Atlantic Edge exhibition, which examines different elements of the mighty Cliffs of Moher. 
The tour continues along the Atlantic Coast and you will experience striking views of Galway Bay and the Aran Islands.
We will travel through the Burren region, and marvel at this unusual rocky landscape! We will also have a short photo and rest stop at Bunratty Castle, before our return to Limerick! This one day tour offers superb value for money, with professional guides that are highly trained, proudly patriotic and among the best trained and highly respected in the world of travel.
ITINERARY:
We leave historic Limerick City, and en-route we will view King Johns Castle and the river Shannon. We continue via County Clare to the west coast of Ireland.
CLIFFS OF MOHER
We spend 1.5 hours at the Cliffs of Moher – one of the world's greatest natural attractions. The cliffs stand 1/3 the size of the Empire State Building and have large populations of puffins and gannets. You can enjoy a hike or a relaxed walk, while gazing in amazement at this geological and natural beauty. The Cliffs of Moher also have shops and restaurants, anything from snacks and souvenirs available in plenty. Visitor charges at the Cliffs are included in your ticket.
DOOLIN
We depart from the Cliffs of Moher for a stop in Doolin, a lovely village where you may wish to enjoy a traditional Irish pub lunch (optional), maybe a seafood chowder with a pint of the local Doolineer pint (optional). On the way we will have superb views of the Atlantic coast and the Aran Islands.
THE BURREN
We depart Doolin and visit one of the most unusual limestone surfaces anywhere – the Burren, a lunar landscape dating back 300 million years with unique features such as underground lakes and waterfalls. If it's the right season you may see one of the 26 different types of orchids that grow here right on beautiful Galway Bay. As we stroll through this rugged surface we understand how Neil Armstrong felt when he set foot on the moon in August 1969.
WILD ATLANTIC WAY ROADTRIP
This afternoon we'll round off the day by taking a spectacular drive along the coast as far as Black Head and romantic Galway Bay. Sit back, take in the scenery and imagine how the locals lived on this incredible land over the centuries.
MEDIEVAL BUNRATTY CASTLE – PHOTO STOP
We stop at Bunratty Castle, for the chance to grab a coffee and refresh yourself. You can easily imagine Norman Knights, Gaelic warriors and Jousting Chieftains at this hallowed spot.
THE FOND FAREWELL
We leave Bunratty Castle for the short return drive to Limerick. The tour finishes at 04:30 approx.
Additional Info:
This tour is exclusively in English
You will receive confirmation and receipt for your reservation immediately upon booking. You will receive your ticket (featuring your booking number) via email shortly after. There is no need to print the ticket. If you wish, you can simply show it on your phone or tablet.
Book as soon as possible to guarantee availability, especially during public holidays and festivities.
Trip ID: 062330