LIMERICK TO THE RING OF KERRY – DAY TOUR
THERE IS AN UNSPOILED NATURE TO IRELAND'S MOST BEAUTIFUL REGION AND THE RING OF KERRY PROVIDES MANY UNFORGETTABLE SCENES TO COMMIT TO MEMEORY AS IT PASSES THROUGH THE MANY PICTURESQUE VILLAGES.
Limerick – The Ring of Kerry Day Tour
Location Pick-Up – Arthur's Quay, Arthur's Quay Park, Limerick
The Ring of Kerry
The Ring of Kerry is usually done in an anti-clockwise direction along the banks of the River Laune to Killorglin, via Glenbeigh, Kells, Caherciveen and the southern shores of Dingle Bay.
Killorglin is a Town for the ages where a stunning landscape and natural environment inspires ambition, talent, creativity and innovation in its people. Rural in location but cosmopolitan, progressive and inclusive in nature, Killorglin's renowned and enviable quality of life is at the heart of its innovative and sustainable development. Overall Killorglin is naturally welcoming!
The tour continues to Waterville and along the coast via Coomakista Pass and Derrynane and on to Sneem.
Sneem Village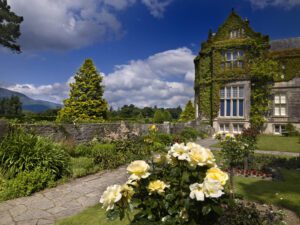 The picturesque village of Sneem is situated midway between Kenmare and Waterville on the northern side of Kenmare Bay on the Ring of Kerry. The village is immaculately kept with its traditional buildings, pubs, restaurants and craft shops, painted in an array of beautiful colours. It is a past winner of the "tidy towns of Ireland" competition. The Irish name for the town is "an tSnaidhm" which translates as "knot" and probably a reference to the winding Sneem river which flows through the village and into Kenmare bay. Sneem is set in idyllic walking country and also enjoys the mild currents of the Atlantic gulf stream which give rise to sub-tropical vegetation. It is the perfect location for relaxation, gathering ones thoughts and resting the mind. No hustle and bustle allowed here.
Molls Gap & Ladies View
From Sneem we travel up the mountain road to Molls Gap, then via 'Ladies View' and back to Limerick.
In addition to stopping at all points of interest en route we also stop for an hour at lunchtime. In the afternoon a stop will be made for tea/coffee/Guinness/refreshments.
You will find our guides knowledgeable, friendly and always willing to share a joke with you. It's an experience we hope you will treasure for many years to come. The tour returns to Limerick.
May the road rise up to meet you.
May the wind be always at your back.
May the sun shine warm upon your face;
the rains fall soft upon your fields and until we meet again,
may God hold you in the palm of His hand.