LIMERICK TO DINGLE PENINSULA & SLEA HEAD – DAY TOUR
THE RUGGED AND GEORGEOUS DINGLE PENINSULA, OR 'CORCA DHUIBHNE', STRETCHES 30 MILES INTO THE ATLANTIC OCEAN, LEADING TO THE WESTERN MOST POINT OF ALL OF EUROPE!
Limerick – Dingle Peninsula & Slea Head Day Tour
Location Pick-up – Arthur's Quay, Arthur's Quay Park. Limerick
The Dingle Peninsula
The Dingle Peninsula has the most rugged coastline in Ireland. It is scattered with ancient huts and historic buildings such as the Kilmalkeadar Church which is a stop on the tour.
Kilmalkedar
Kilmalkedar was a very important monastery in the early medieval period. The ruined 12th-century Romanesque church displays fine carving, especially on the doorway and on the chancel arch. It became the parish church for the area in the 13th century, and was in use until the 16th century.
A great deal of traditional Irish heritage is maintained in this Irish-speaking (Gaelic) region (a Gaeltacht), including traditional music art and crafts.
Considered by many to have some of Europe's most spectacular scenery, the peninsula also supports both a rare and unique assortment of flora and fauna.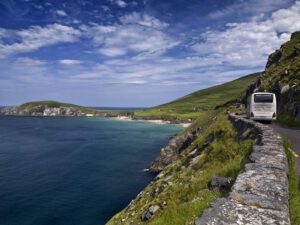 The Wild Atlantic Way
Slea Head, a part of the Wild Atlantic Way, is the most westerly point in Europe. Slea Head is located in the barony of Corca Dhuibhne and standing there, looking towards America, instils a feeling of excitement and empathy with the millions of Irish Emigrants who took this route.
Slea Head
There are splendid views around Slea Head, especially of the Blasket Islands and the scattered rocks which are all part of an exploded volcanic area.
In the storms of September 1588, four ships of the Spanish Armada were driven through the Blasket Sound.
Two reached shelter by way of great seamanship but a third sped through the Sound with its sails in tatters and crashed onto the two other ships. Nonetheless, the other two eventually returned to Spain.
Having immersed ourselves in this exciting history, we now must return to our current place in time and head back to to Limerick.
'The most beautiful place on earth' – National Geographic
'Voted among the top 100 destinations in the world' – Trip Advisor
'A very favorable winter destination' – CNN
Film location for Star Wars Episode VIII, The Last Jedi, Ryan's Daughter and Far and Away…….