DUBLIN – THE GLENDALOUGH & POWERSCOURT GARDENS DAY TOUR
ENJOY STUNNING VIEWS FROM START TO FINISH AS YOU SET OFF ALONG THE SOUTH COAST OF THE CITY, TAKING IN THE DUBLIN DOCKLANDS AND CONTINUING ALONG TO SANDYMOUNT.
The Glendalough & Powerscourt Gardens Tour
Pickup is at Dublin Bus 59 Upper O'Connell Street
Glendalough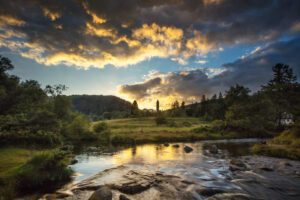 First stop is Glendalough, a destination that's known to every Dubliner for its idyllic beauty and serenity. Take a walk up to the lakes, visit the 6th century monastic city and Glendalough Visitor Centre or stop off in the local hotel for a spot of lunch.
The tour then continues through Wicklow, passing the picturesque town of Enniskerry before arriving at Powerscourt House and gardens.
Powerscourt House and Gardens
Relax in the Georgian glory of the medieval Powerscourt Estate with gardens voted No.3 in the world by National Geographic and set within the beautiful backdrop of the Wicklow Mountains.
Powerscourt is one of the most beautiful estates in Ireland. Situated in the mountains of County Wicklow, it was originally an important strategic site for the Anglo-Normans who came to Ireland in the late 12th century. Where Powerscourt House stands today there was once a 13th century medieval castle, owned by the Le Poer Family from which 'Powerscourt' takes its name. Powerful Irish families including the O'Toole's and the Fitzgerald's battled for possession of the castle and its lands over the succeeding centuries.
Take a walk around and visit the Japanese gardens and pet cemetery, before stopping off in Avoca Café in Powerscourt House for tea and scones.
Exposure
A poem by Seamus Heaney
It is December in Wicklow:
Alders dripping, birches
Inheriting the last light,
The ash tree cold to look at.A comet that was lost
Should be visible at sunset,
Those million tons of light
Like a glimmer of haws and rose-hips,And I sometimes see a falling star.
If I could come on meteorite!
Instead I walk through damp leaves,
Husks, the spent flukes of autumn,Imagining a hero
On some muddy compound,
His gift like a slingstone
Whirled for the desperate.How did I end up like this?
I often think of my friends'
Beautiful prismatic counselling
And the anvil brains of some who hate meAs I sit weighing and weighing
My responsible tristia.
For what? For the ear? For the people?
For what is said behind-backs?Rain comes down through the alders,
Its low conductive voices
Mutter about let-downs and erosions
And yet each drop recallsThe diamond absolutes.
I am neither internee nor informer;
An inner émigré, grown long-haired
And thoughtful; a wood-kerneEscaped from the massacre,
Taking protective colouring
From bole and bark, feeling
Every wind that blows;Who, blowing up these sparks
For their meagre heat, have missed
The once-in-a-lifetime portent,
The comet's pulsing rose.