DUBLIN – CORK CITY & THE BLARNEY DAY TOUR
THE ROCK OF CASHEL, CORK CITY & THE BLARNEY STONE AWAIT YOU ON THIS GREAT ESCORTED DAY TOUR.
Dublin – Cork  City &  The Blarney Day Tour
Pick Up Location – Old Church, Suffolk Street, Dublin 2
Blarney Castle
You depart early morning from Dublin heading south through the County Kildare .Visit the Blarney Castle, which still retains its old world charm with its towers, battlements and gated entrance built on a rocky outcrop.
Blarney Castle is a medieval stronghold in Blarney, near Cork. Though earlier fortifications were built on the came spot, the current keep was built by the MacCarthy Clan of Muskerry dynasty, a cadet branch of the Kings of Desmond, and dates from 1446. The Blarney Stone is among the machicolations of the castle.
Kiss the Blarney stone, situated on the parapets of the castle, to gain the gift of eloquence – that is the ability to persuade people and being able to talk yourself out of trouble.
Cork City
Visit Cork city, a cosmopolitan city with a young population. Loose clothing is advised – Cork is known as the culinary capital of Ireland, a city where you're actively encouraged to gorge. And there's no better introduction to Cork's foodie scene than the fantastic English Market, now with a very international flavor.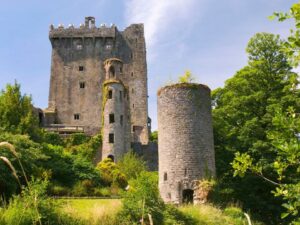 Marvel at the Gothic Saint Fin Barre's  Cathedral, designed by William Burges and consecrated in 1870, the Cathedral lies on a site where Christian worship has been offered since the seventh century right up until today.
Or ring the bells of Shandon at St. Anne's church for a small fee. Church of St. Anne's, Shandon was built in 1722.      In 1750 the Firm of Abel Rudhall in Gloucester cast the famous bells of Shandon.  The walls of the building are 7 ft thick and the height to the tower is 120 ft. This is extended a further 50 ft for the "pepper pot" adornment on the tower. There are 132 steps to the top of the building.  On top of the pepper pot is a weather vane in the form of a salmon, representing the fishing of the River Lee.
The clock of the tower is known to Corkonians as "The Four Faced Liar" because, depending on the angle of the viewer, and the effects of wind on the hands on a given face, the time may not appear to correspond perfectly on each face.
The Rock of Cashel
Visit the The Rock of Cashel, a multi-period monastic site, which was a fortress before it became the seat of the bishop of the diocese of Cashel. Visit Cormack's Chapel, consecrated in 1134, with one of Ireland's best preserved Irish frescoes and Romanesque architecture.
Cork is is also home to Murphy's Ale, the origin of this beer dates back to 1856, when James J. Murphy founded the Murphy brewery in Cork (Ireland) with three other brothers.