DUBLIN – CELTIC BOYNE VALLEY DAY TOUR
JOIN US ON A DAY OF TIME TRAVEL, VISITING THE NEOLITHIC TOMBS OF LOUGHCREW AND THE CELTIC BOYNE VALLEY!
Dublin – Celtic Boyne Valley Day Tour
Pickup Location – Old Church, Suffolk Street, Dublin 2
The Celtic Boyne Valley day Tour brings you to the historically significant Boyne Valley situated in County Meath from where the ancient High Kings of Ireland ruled.
The Boyne Valley
Birthplace of Ireland's 'Ancient East'. This is a place steeped in history, encompassing Co. Meath and south Co. Louth. You will find fantastic food, magnificent waterways and plenty of outdoor adventures!
Hill of Tara
The predominantly Iron Age Hill of Tara, Christian/ Golden era Monasterboice, a fascinating monastic site with an impressive round tower and
featuring some of Ireland's best preserved Celtic High Crosses all in a peaceful countryside setting. Saint Buite founded the community in the 600s.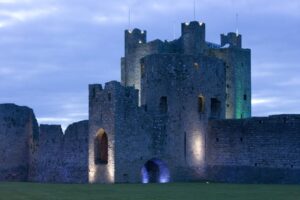 Trim Castle
Visit then to Trim castle, the best preserved, most impressive example of Anglo-Norman castles in Ireland. A monumental three-story keep. This massive 20-sided tower, which is cruciform in shape, was all but impregnable in its day. It was protected by a ditch, curtain wall and water-filled moat.
The site for the castle was chosen because it is on raised ground overlooking the River Boyne, and about 25 miles from the Irish Sea.
It offers a spectacular insight into the lives and traditions of the people from the middle ages, so it comes as no surprise that it was used as a backdrop to the historical, Academy Award winning, epic film, Braveheart. Directed by and stared Mel Gibson, also featuring actors such as Sophie Marceau, Angus Macfadyen, Patrick McGoohan, Catherine McCormack and Brendan Gleeson (who is also a Musician).
Drogheda
We then depart for a visit to the town of Drogheda.
St. Peter's Church
St. Peter's Church is among the finest Gothic Revival Churches in Ireland and is famous for housing the shrine of St. Oliver Plunkett. The first church on this site was constructed in 1791, and the present one – built in the 1880's – incorporates elements of the earlier structure. The lavish interior includes a special chapel which houses the preserved head of St. Oliver Plunkett (1625 – 1681).
You will have some free time in Drogheda. Explore the narrow streets, visit Magdalene Tower, the tower is of 14th-century construction. It is a fine Gothic Arch, and above are 2 additional story's connected by a spiral staircase.
St. Laurence Gate
Check out the St. Laurence's Gate & Drogheda Walls or join a whiskey tasting with a whiskey connoisseur, before heading back to Dublin.
'Newgrange'
A poem by Julie A. Dickson
To stand before an ancient mound
on the Irish countryside,
stones hewn and balanced,
silent structure stands sentinel,
cavern in deep darkness—
but for the winter solstice, waiting
for early morning light to
Illuminate the ritual altar.
If I almost close my eyes
I can imagine the Druid priests
rowing across deep blue water,
walking on rough paths
to the sacred mound
as the early morning light enters.
I stood where they stood once
awaiting their illumination